"20 PAW" THE FOLLOWING TAKES PLACE BETWEEN 6:00 PM AND 7:00 PM ON THE THIRD DAY OF APRIL
ROCK AND ROLL CONFERENCE PRESENTS … A NEW LIVE WEB SERIES WHERE YOUR PET IS THE STAR!
JOIN US ON APRIL 3, 2020 at 6 PM FOR 20 PAW
Mittens as … "Cat Pauer" (pronounced as Cat Power)…Cat Pauer is lead protagonist of the Rock and Roll Conference Live Stream Series 20 Paw. His character works in various capacities on the show, often as a member of the Counter Virus Unit (C.V.U.) based in Staten Island, and working with the CDC, FBI, CIA, KGB, MI-6 during his 1st season.
HTTPS://ROCKANDROLLCONFERENCE.COM/20PAW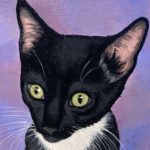 Mittens

1 year old, recording artist, singer, noise maker, watch cat, and criminal.